About Us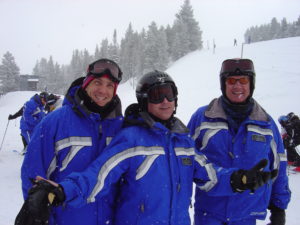 Why do serious skiers and snowboarders wax their own rides?  Because fresh wax on your ride is like magic. Feeling the thrill of flying down the hill with nothing holding you back.  Wax makes the difference and serious skiers and snowboarders know it. That's why they put it on themselves. Do it right!  
We believe you are not willing to compromise, and you expect the highest level of performance from your equipment.  To get you there we select only the best possible wax blends with the highest levels of performance. Crafted together in specific temperature bars.  Our waxes are hand blended in our shop above 7000 feet in the Colorado Rocky Mountains.  Quickiewax goes on quick and will make you fast!
As a Life long skier and snowboarder I've waxed my own equipment for years looking for that ultimate glide.  I was a Vail Adult Alpine Ski Instructor for years and I can tell you temperature specific wax makes a big difference.
Over the years I developed wax blends for myself that outperformed other retail waxes I tried.  I've waxed skis and boards for friends and family along the way simply because they asked me to. I'm always testing wax blends.  These waxes out preformed the waxes they were using so well they asked me if they could have some.
Next thang you know it's in demand. I started to produce it in larger batches and develop packaging.  Now Quickiewax is available on line (Here) order and we will ship it directly to you. Or pick up a bar today in one of these stores locally. (Here)